While most folks dream of a trip to Iceland or Norway to view the Northern Lights, here in northern Minnesota we are able to frequently view the Aurora Borealis. This fact is not due to luck, but rather due to our closer proximity to the magnetic north pole than any other location in the United States. Thus, the question arises how is a person able to maximize their probability of seeing the Aurora in Minnesota? This post gives detailed instructions; however please understand that Lady Aurora is a fickle woman and even when predicted she may not dance across the sky. Thankfully here in northern Minnesota with our gorgeous wilderness including thousands of crystal clear lakes and huge forests, we are a dream location for the person who enjoys the outdoors.  Duluth was recently voted top outdoor city in America by Outside Magazine.
Why Northern Minnesota?
Simply put, because you can see the Northern Lights. Take a look at the two charts given immediately below. The Aurora is caused by the earth's magnetic field, which is centered around the magnetic north pole which is located in Hudson's Bay. Based upon past Auroras, scientists measure the intensity of the Northern Lights using a term called "Kp". You are likely to see the Aurora Borealis in northern Minnesota near the Canadian border if the Kp is 4 or greater.
North America Kp Viewing Chart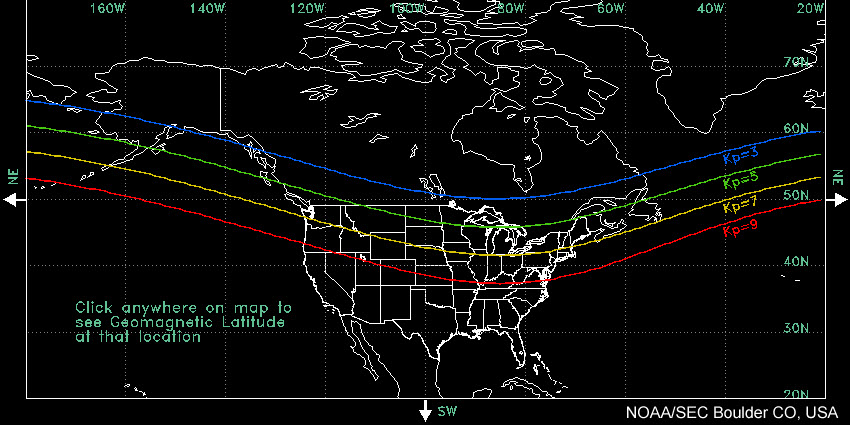 Predicting When the Aurora will Dance
Aurora Borealis forecasts make weather forecasts appear "extremely reliable". How many times have you been outside on what was forecast to be a sunny day only to get rained upon. Northern Lights forecasts are based upon the Solunar cycle and trying to measure the effect of sunspot activity directed towards earth. If the direction a sunspot shoots its power changes just a fraction of a degree differently than expected, the effect misses earth. It's a big universe, and we don't have anyone of the surface of the sun measuring sunspot outputs and direction.
Use the date sensitive tools on my main Northern Lights Viewing web page to plan ahead for your trip … from 28 days in advance to the current conditions.
My Two Favorite Winter Viewing Locations
Viewing the Aurora is fun, but temperatures in northern Minnesota often plunge to dangerously low levels. These two locations are within an hour's drive of the northern edge of Duluth, and have very dark skies where you may watch the Northern Lights from inside your heated car. (in the Summer … mosquito free!).
DO NOT USE GPS or GOOGLE MAPS DIRECTIONS!!! If you follow my directions, you will safely reach each location via good roads. Google may put you on unpassable winter roads where you will get stuck miles from civilization. Your cell phone will not work. You will be off the grid.
Greenwood Lake Public Boat Access: Drive north from Two Harbors on Lake County #2. Shortly after you see a highway sign for Greenwood Creek (about 1/3 mile), the public boat access will be on your right. It is normally plowed out in the winter allowing you to park your car right against the shoreline pointed North / Northeast.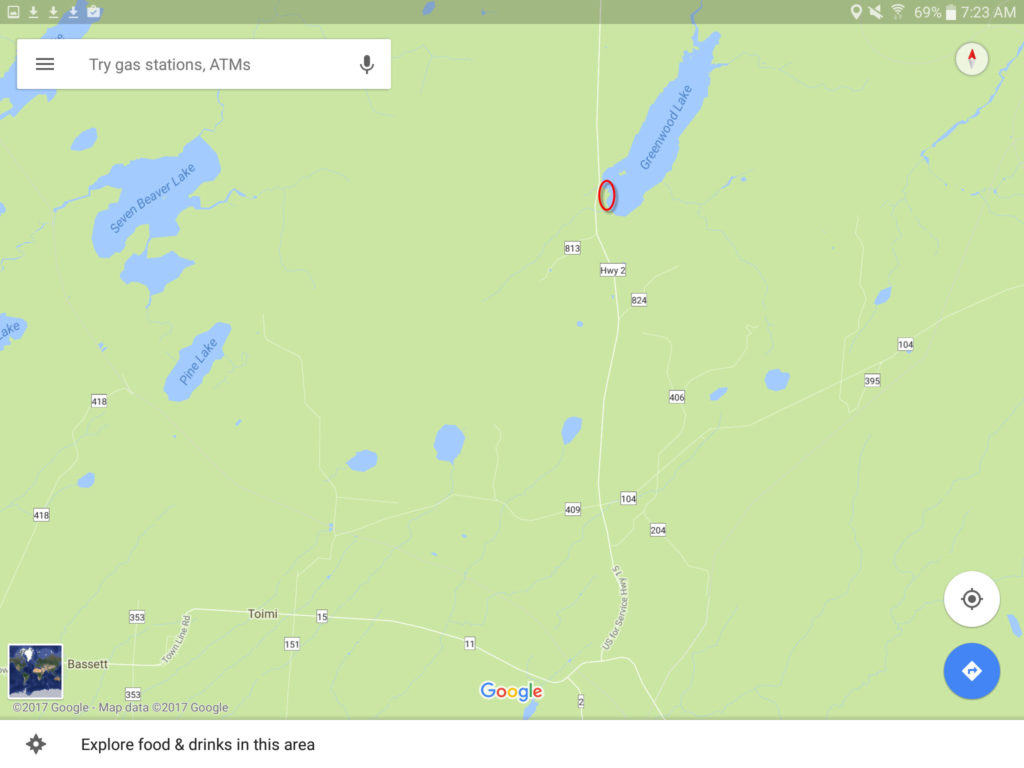 A photograph of the author, and also taken by the author (10 second shutter delay) at Greenwood Lake in August 2016 during a rare sunrise Aurora.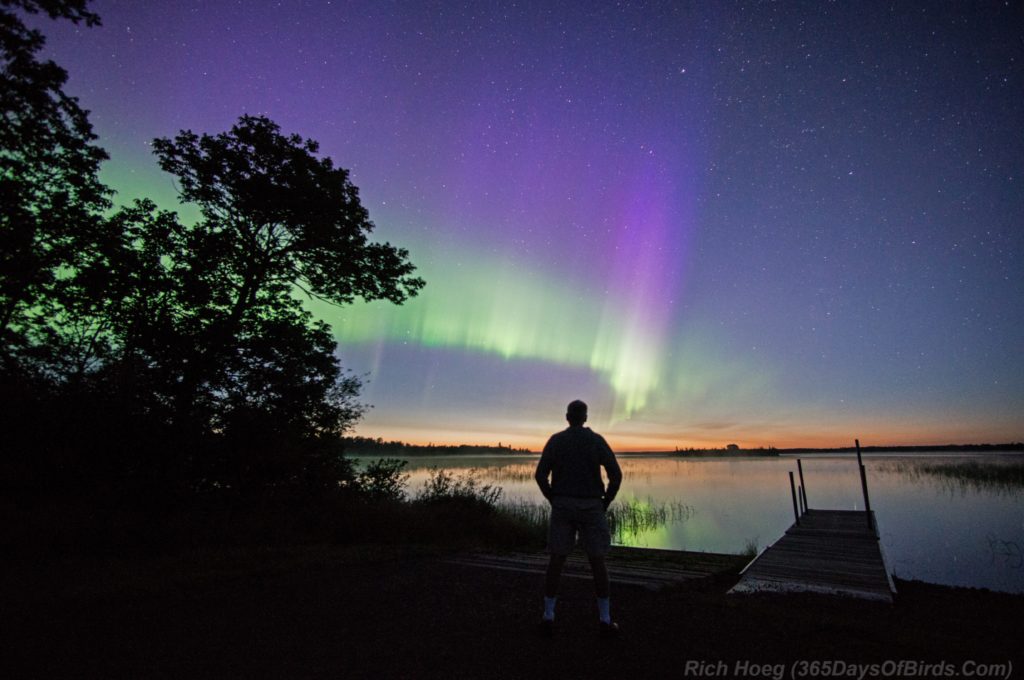 Little Stone Lake: Drive from the Duluth area using Pequaywan Lake Road to Rt. #611 (Hopper Road); Left onto Stone Lake Bridge Road; Left onto Drummond Rd (North Little Stone Lake Road). DO NOT TAKE Drummond Rd in the other direction. When you reach Little Stone Lake you will find yourself on an earthen dam road with great views to the North / Northeast. Just pull over towards the side of the road in the very unlikely event someone should need drive by you. At the end of the earthen dam their is a small plowed public boat access where you will be able to turn around your car.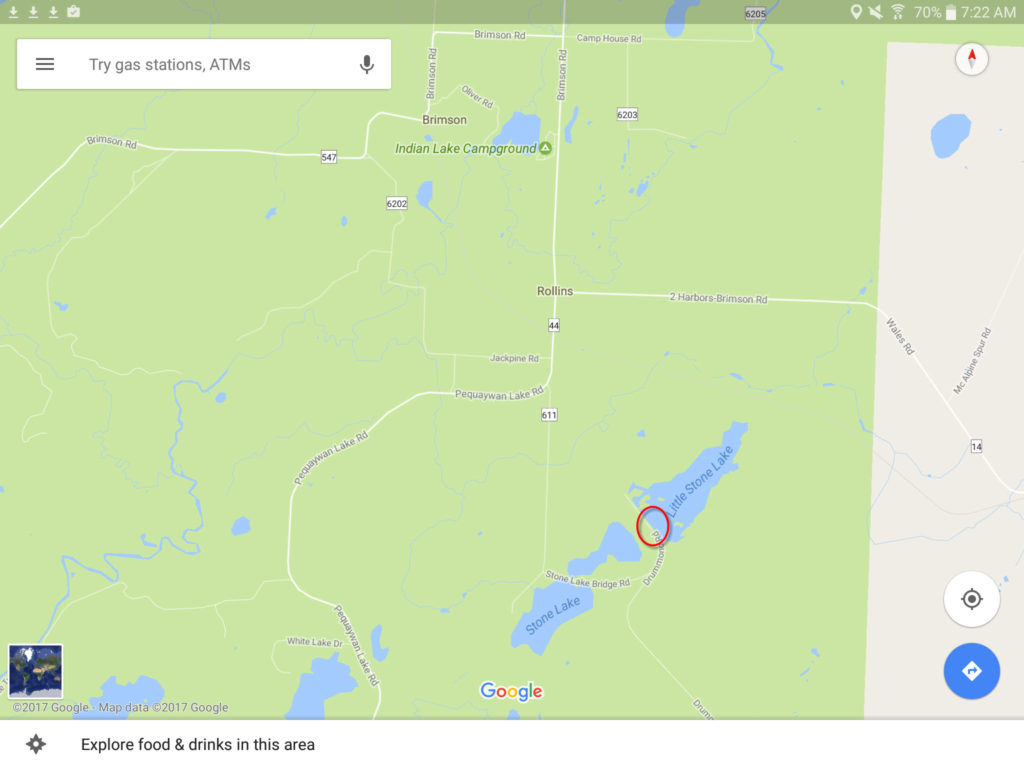 A photograph taken by the author at Little Stone Lake during the St. Patrick's Day 2015 Aurora. The Aurora is reflected in refreeze snow melt lake ice.