Yesterday was special. When I am able to spend quality time out in the Northwoods with friends and later by myself, finding rare birds … Uff dah! In the morning I had fun showing off the area to some new friends who for them, seeing a Great Gray Owl was a first in the life experience. I will admit, given the sunny skies our owl was buried deep within the pine forest and had no intention of coming out into the bright snow reflecting sun.
Later in the day I returned by myself arriving at my favorite haunts about 45 minutes before sundown. This allowed me to find two Great Gray Owls while the light made that exploration still possible, but still watch one of the birds hunt till 30 minutes after sunset.
Here are a few photos from yesterday, and the day before.
Stop and Smell the Lake Superior Roses! Two nights ago at sundown the light was so perfect I decided against owling and instead hiked over to a cove which gave me this vantage point of Splitrock Lighthouse.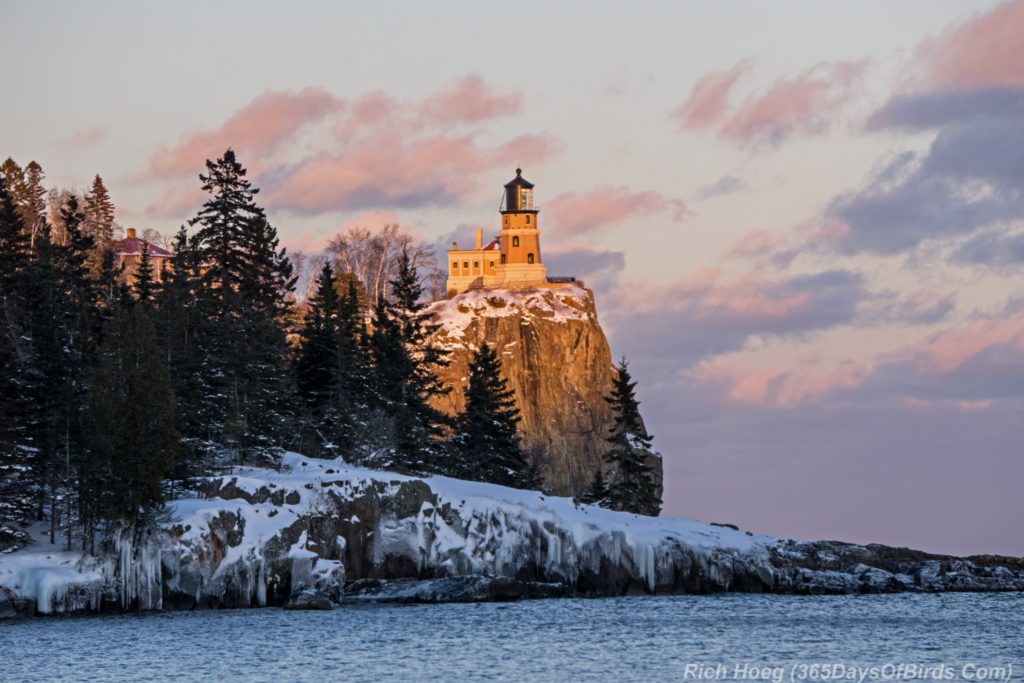 Just Saw-Whet and Me! My thanks to Jeff Moravec, an outdoor writer for the Star Tribune down in the Minneapolis area (read his owling article). While birding together earlier this week, we had the amazing experience of getting up close and personal with this owl. Jeff took this photograph of me taking a picture of the sleeping owl. After ten minutes we left it snoozing in the tree, dreaming of its upcoming evening hunt.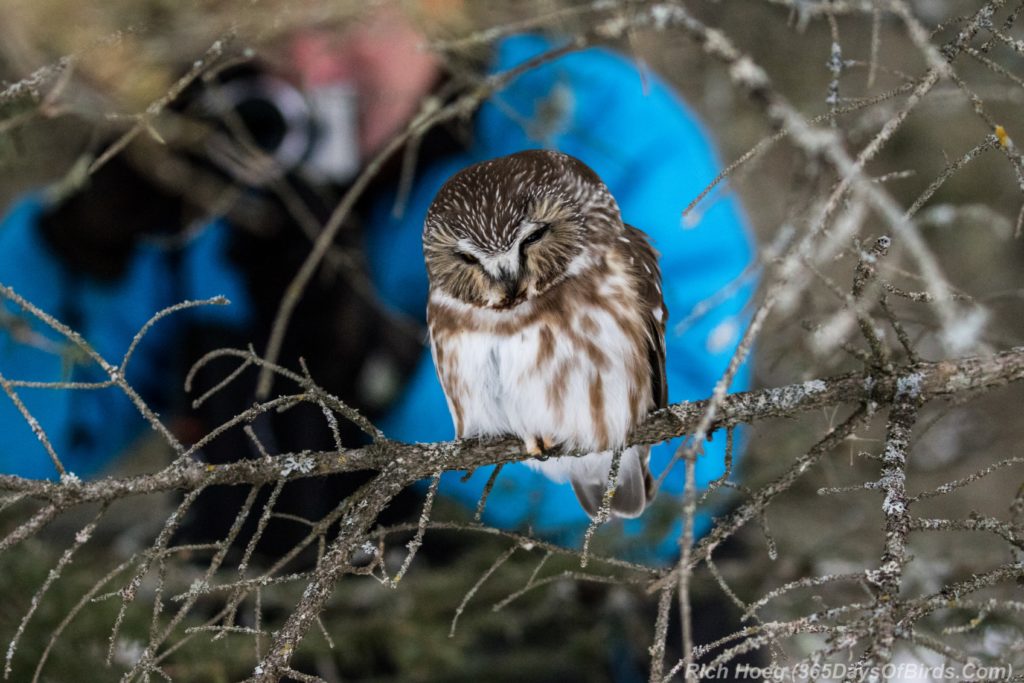 Word to self … don't block favorite hunting perches!!! Just before sundown yesterday I found two Great Gray Owls hunting. While standing next to my car, approximately 40 yards from this owl, it started to fly directly at me!! Amazed, and a touch frightened, the owl and its talons cleared my head by less than 2 feet. A second or two later it landed less than five yards from me on this post. Fishermen can be pretty fierce when it comes to guarding their favorite fishing holes. Guess owls are similar!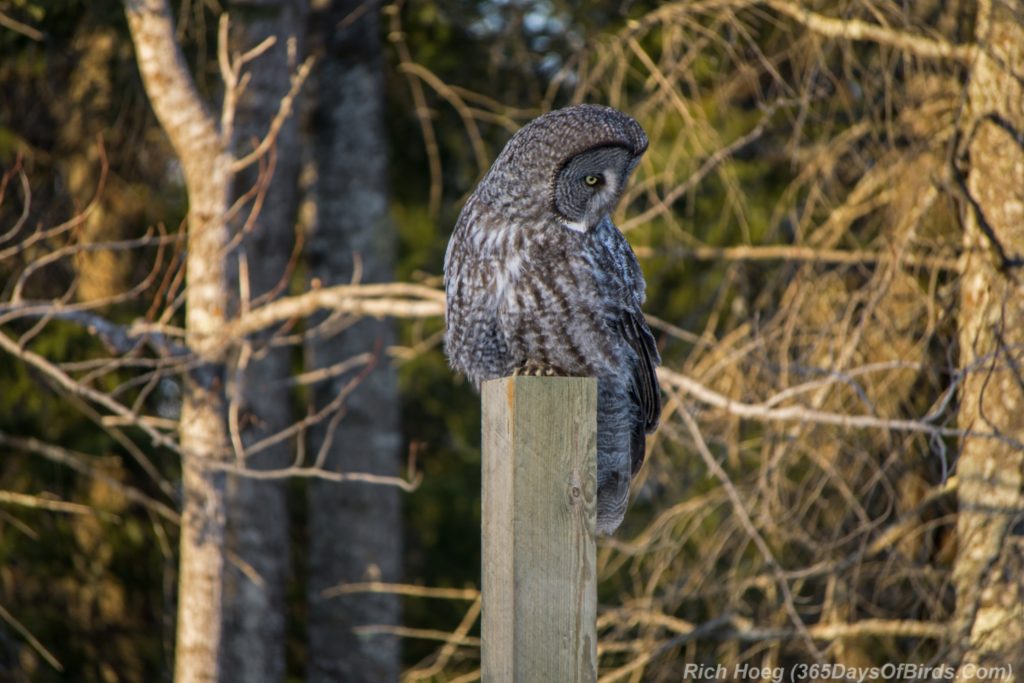 The Evening Hunt! Don't even dream of stealing my supper! I found this owl 15 minutes before sundown, and photographed the bird after a successful kill 30 minutes after sunset.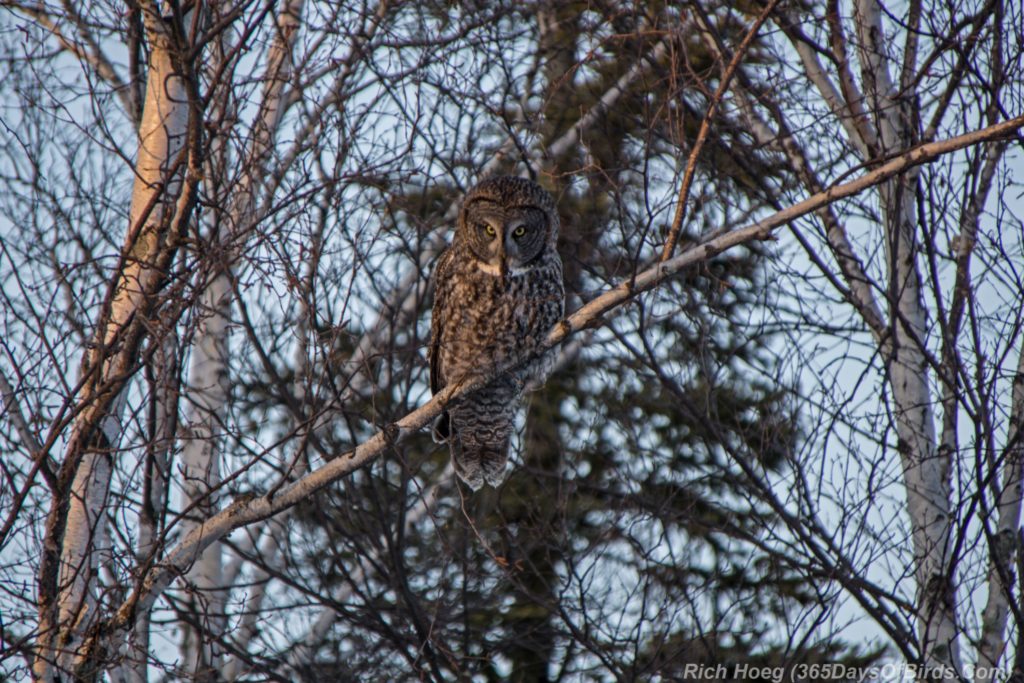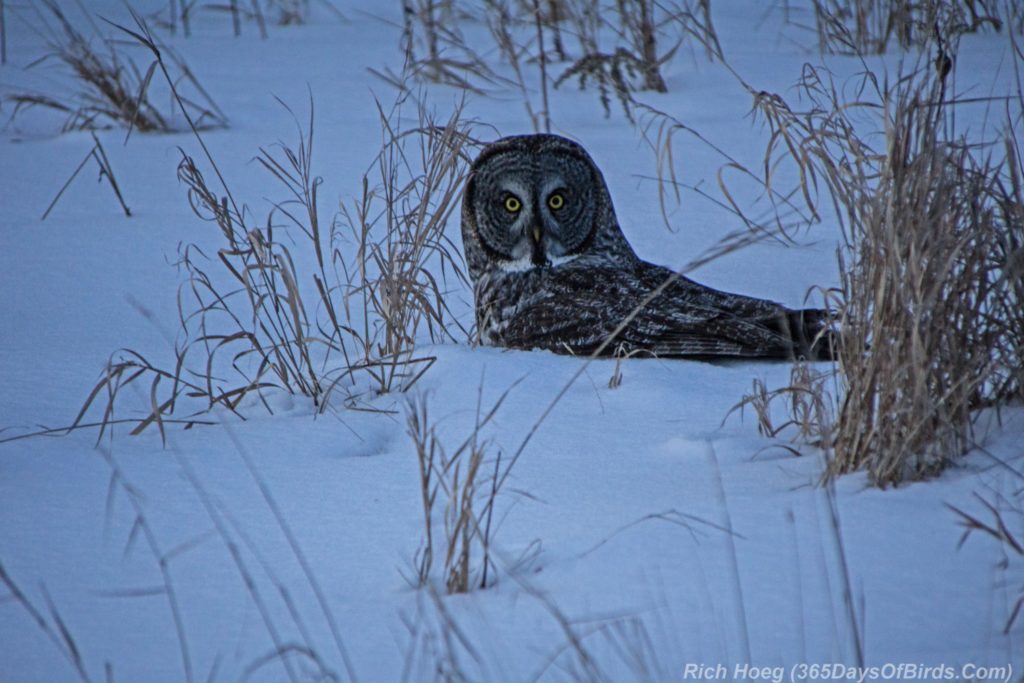 Unfortunately Great Grays are not unaccustomed to humans and our technology. This owl was smacked and killed by a car yesterday. The bird is being held by Laura, who is both a veterinarian and the wife of a National Geographic Photographer. I met this team out on the trails yesterday. National Geographic and this team (Laura and Neil) are working upon a wildlife documentary about our area which will air next year. Should you find a dead raptor along the road, please call the game warden. The warden will give you instructions on how to proceed.