As noted previously in this blog, for my birding photography I use a Canon Sx-60 super zoom / bridge camera, but for my landscape and night photography I shoot with a Sony mirrorless camera, now the A6000 (previously a NEX-5t). This choice suits me well as the bridge camera gives me lots of zoom for a modest price in a package that allows one to easily hike into the back country. I picked Sony micro 4/3 mirrorless cameras for my night photography because Sony is known as the top sensor manufacturer leading to optimized cameras for low light picture taking (Sony makes sensors for a HUGE number of other manufacturers). The mirrorless system is also a good choice due to performance, size and it will not break the bank.
Now the point of this post. For some time I have thought it would be nice if I could extend the reach of my Sony A6000 telephoto lens. The longest "e mount" lens is a manual zoom 55 to 210 mm (82 mm to 315 mm equivalent). Having a longer lens would be nice for night time moon photography, some occasional bird photographs in low light (bridge cameras due to their very small sensors are limited in low light photography). However, my research into telephoto options yielded no results … only cheap lenses that would be 100% manual. While I am not opposed to manual lenses, birds tend to move quickly and therefore I wanted to be able to still utilize autofocus and all the other native capabilities built into my camera.
After hours of research via Google, I stumbled upon the Olympus Teleconverter TCON-17X. If this system worked, I would now be able to attach the teleconverter onto the end of my Sony 55-210 mm zoom lens and create a a 35 mm equivalent of a 535 mm lens given my micro 4/3 sensor. I also needed to purchase a seven dollar step-up ring from 49 to 55 mm (an adapter that will allow you to mount the Olympus teleconvertor on the Sony lens). Here is the YouTube video of this combination which convinced me to make the purchase.
As they say … the proof is in the pudding. Here are two photographs of a Pileated Woodpecker taken two days ago after a snow storm in some very low light (i.e. thick clouds). The images are straight out of the camera with no lighting / shading adjustments, etc.  I was approximately 30 yards away from the woodpecker, and the bird was about 40 feet up in the tree. The final two photographs of this woodpecker are two images on which I took some time, and processed with minor lighting adjustments.
Amity Creek Pileated Woodpecker without teleconveter
210 mm zoom (315 mm equivalent for a 35 mm system)
A6.3, 1/400th of a second, ISO 640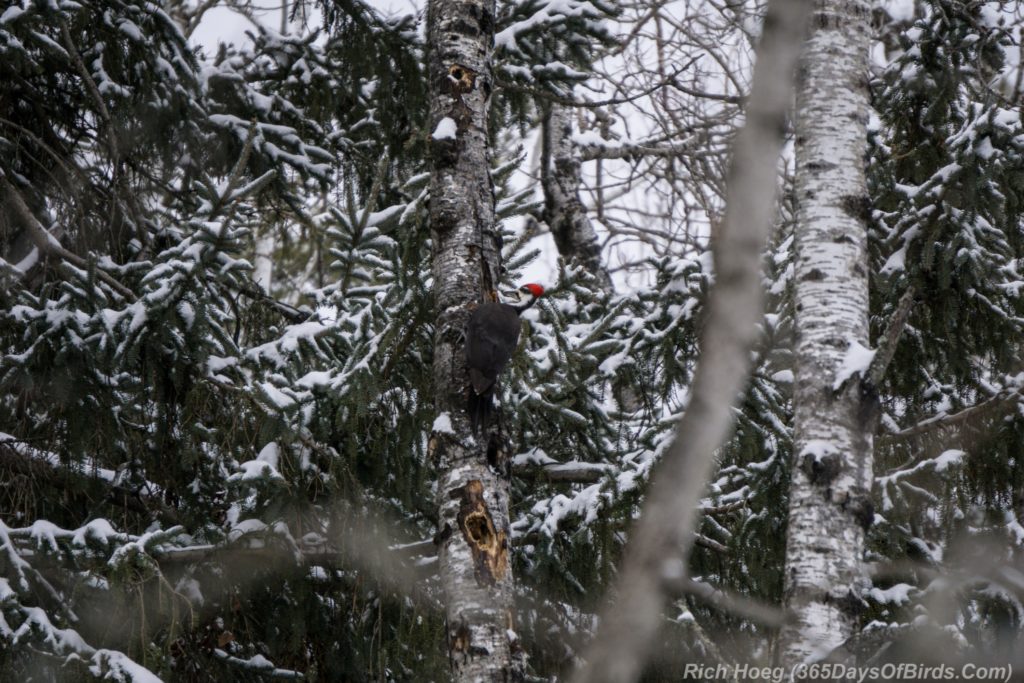 Amity Creek Pileated Woodpecker with 1.7 OlympusTteleconveter
315 mm zoom (535 mm equivalent for a 35 mm system)
A6.3, 1/400th of a second, ISO 800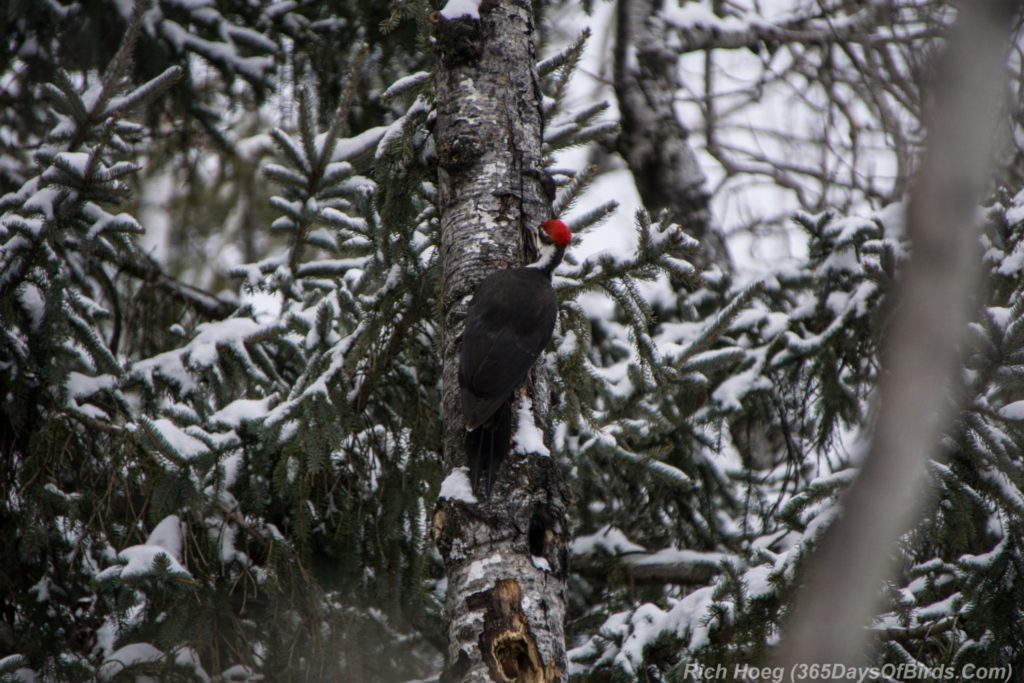 Amity Creek Pileated Woodpecker with 1.7 OlympusTteleconveter
These two photos were NOT part of my test. They are from a slightly different location, and have been processed for minor lighting / shading adjustments. Finally, some cropping of the photos was performed.