While bicycling in rural northwestern Wisconsin yesterday I noticed quite a few Indigo Buntings. This was a sign for me that some of our latest migrants back to the Northland had finally returned. Thus, last night after supper I drove the two short miles up to Hawk Ridge. While most folks know Hawk Ridge as one of the premier Autumn raptor migration locations in North America, during the late Spring when songbirds are migrating north the extensive wild fruit and berry trees attract lots of birds on calm, clear mornings. Actually the birds may be up at Hawk Ridge on cold, wet, windy and foggy days, but I prefer to stay home! 🙂
Note: Hawk Ridge is a great fall raptor migration viewing spot because hawks while migrating south run into Lake Superior. Raptors do not like to fly across large bodies of water, and thus they fly hundreds of miles down the North Shore of Lake Superior till the birds reach the end of the lake (Duluth). Out hill on calm warm days provide both great thermals for the hawks, and good viewing opportunities for us birders. From Hawk Ridge down to the lake is a drop of about 600 feet.
Hawk Ridge did not disappoint. In the 30 minutes before the sun dipped below the horizon, I was treated to a sunset with Golds, Greens and Indigo!
I returned at sunrise, the enjoyed a crystal clear calm morning (37F at 5:30 am). Here are a few of the birds I found this morning … and the John G. Munson arriving the Duluth harbor at sunrise (the view from Hawk Ridge out over Lake Superior towards town).
The John G. Munson Arriving at the Duluth Harbor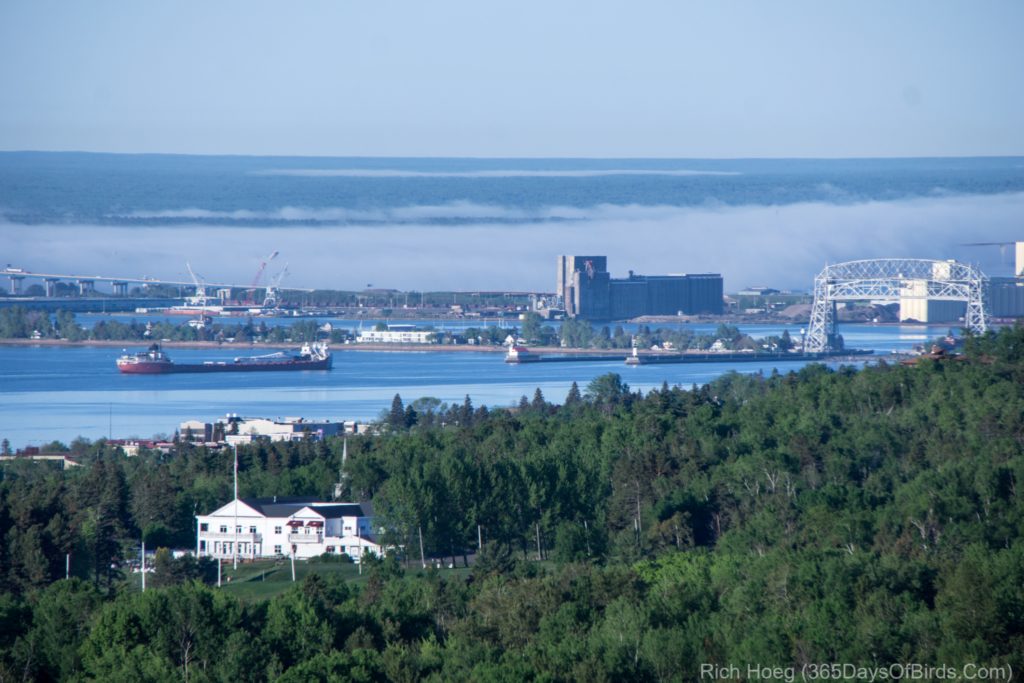 Great Crested Flycatcher (Singing Out and Coughing Up!)