Overview
Use these resources to learn when an aurora display is forecast! Northern Minnesota is one of the best areas to view the Aurora in the continental United States due to its proximity to magnetic north (northern Hudson Bay). This web page lists resources that will help you predict whether the Northern Lights will dance across the skies from 20 minutes to 28 days out from the current time. A map to one of my favorite Northern Lights viewing locations which is a bit north of Duluth may be found at the very bottom of this post.
You may wish to view some of my Northern Lights photographs. My images are available for purchase. Personal off-line use is provided w/o charge.  Media sites and Non-Profits are often granted free use of images. Contact me.
Current Aurora watches from NOAA:  None.
Northern Lights post / images from the night of …
Northern Lights Apps
Android:  Aurora Alert from Eagles's Orbit costs only a few dollars and keeps one informed about the Northern Lights including the sending of alerts. Aurora Alert will sound an alarm on your smart phone based upon your GPS position when the Aurora may be viewed where you are currently located.
Apple IOS: My Aurora Forecast Pro Worth the $1.99 price. Make certain you go into settings and configure them properly for Minnesota. Allow alerts for the Summer, and set the Kp level to five.
Forecasting the Northern Lights!
Long Term Forecast (4 to 28 days from today)

The Northern Lights tend to follow the 28 day solunar cycle. Generally times of the solunar cycle that normally have more sunspot activity (causes the Aurora), will also have more Northern Lights viewing opportunities. Long term Aurora forecasts are NOT very reliable, but if you are planning a trip and hoping to optimize your viewing chances, this resource from the University of Alaska is worth utilizing. Ultimately you want to see a rating (Kp) of "5" or higher for viewing in Northern Minnesota.

Short Term Forecast (1 to 3 days from today)

NOAA (The National Weather Service) maintains a graph which tracks Aurora watches and warnings. The page is a bit difficult to understand, but just remember these key points: Watches & Warning are good. Kp of "5" or higher is good.
SpaceWeather Live maintains a forecast for Aurora conditions expected over the next 72 hours. Times are in UTC, which must be converted to your local time zone. For the Central Time Zone UTC varies from local time by 5 or 6 hours (daylight or standard time). Once again, for Northern Minnesota you want a Kp of "5" or higher.

Immediate Forecast (current to 24 hours)

Ovation Aurora forecasts the likelihood of viewing the Aurora within the next 20 minutes. Upon linking to the site, you will see a image of the northern hemisphere. Please note the "red" viewing line. In northern Minnesota I like power numbers greater than 45 GW (see upper right hand corner of map). If you see lots of bright colors (reds and oranges), and power readings way above 50 GW, get outside and look north!  Pay attention to trends (i.e. increasing or decreasing power numbers noted over a few hours)
Viewing the Aurora Borealis
In order to see the Northern Lights you need dark, cloud free skies with open views to the North and Northeast. Nights with lots of moonlight will tend to "wash out" the aurora.
Dark Skies Map: Open the link and zoom into the desired area. The linked site will help you find truly dark locations, and avoid light pollution. Remember, even in the darkest location, a bright moon makes viewing the Aurora difficult. Check the moon phase!
Google Maps: Public boat launches and lakeshores with open views tend to be great viewing locations. Use Satellite mode, zoom in an really inspect your hoped for viewing location. Better yet, check out areas during the day for open views to the North and Northeast.
Northern Lights Viewing Locations in the Lake Superior Region: This link opens a Google Map which has been annotated to show known locations with open views to the North and Northeast. Click upon a marker and read about a given location. Some markers will have extensive notes. You should also view my map to Boulder Lake (just north of Duluth) which is at the bottom of this web page.
Weather: Cloud Forecasts
Connect With Aurora Enthusiasts (Amateur to Pro)
Photographing the Northern Lights
Northern Minnesota has the best Aurora watching opportunities in the lower forty-eight states. In addition, our region has extensive wilderness where one may escape light pollution found in urban areas which wash out displays. With a little advance planning, it is possible to photograph the Aurora.
Camera Settings: Use these settings as a starting point and then adjust based upon results. Adjust your exposure and ISO settings up and down to affect how much light your camera's sensor captures. Remember, higher ISO settings yield more noise in your photographs. Finally, remember the earth is rotating at thousands of miles per hour underneath you. Exposure settings much longer than 25 seconds will tend to smudge your stars and give you star trails.


.

Aperture: 2.0
Exposure: 20 seconds
Focus: infinite
ISO: 1,600
White Balance: tungsten or auto
Use of a tripod is a "must"
Use a 2 second shutter release delay
Here are a few of my own Northern Lights photos
Memorial Day Aurora (May 2017)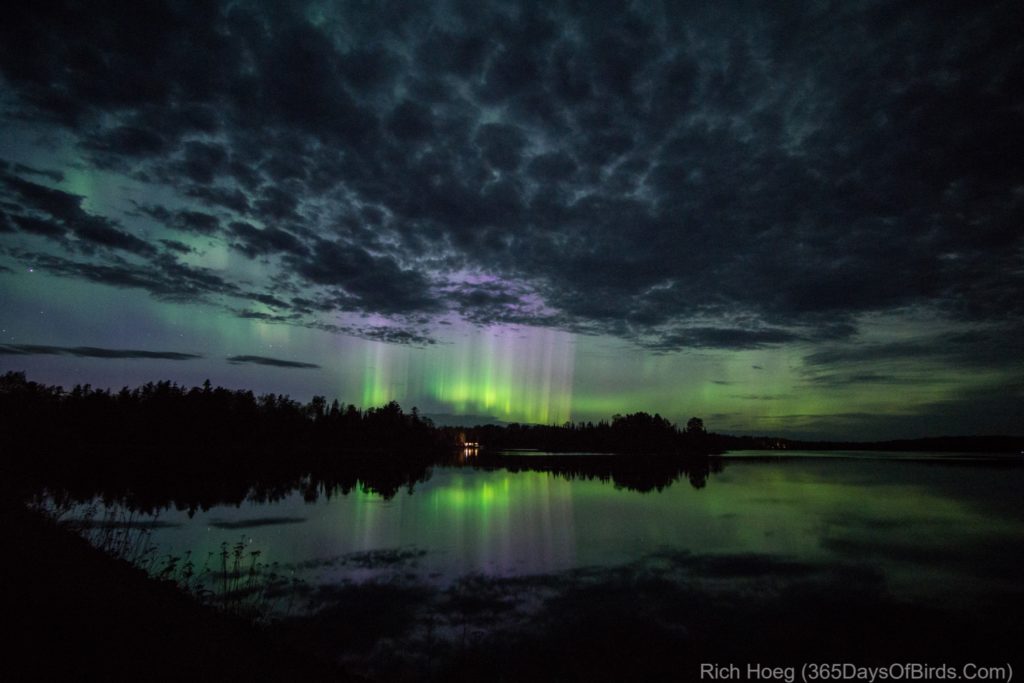 Kayaking Under the Aurora (September 2016)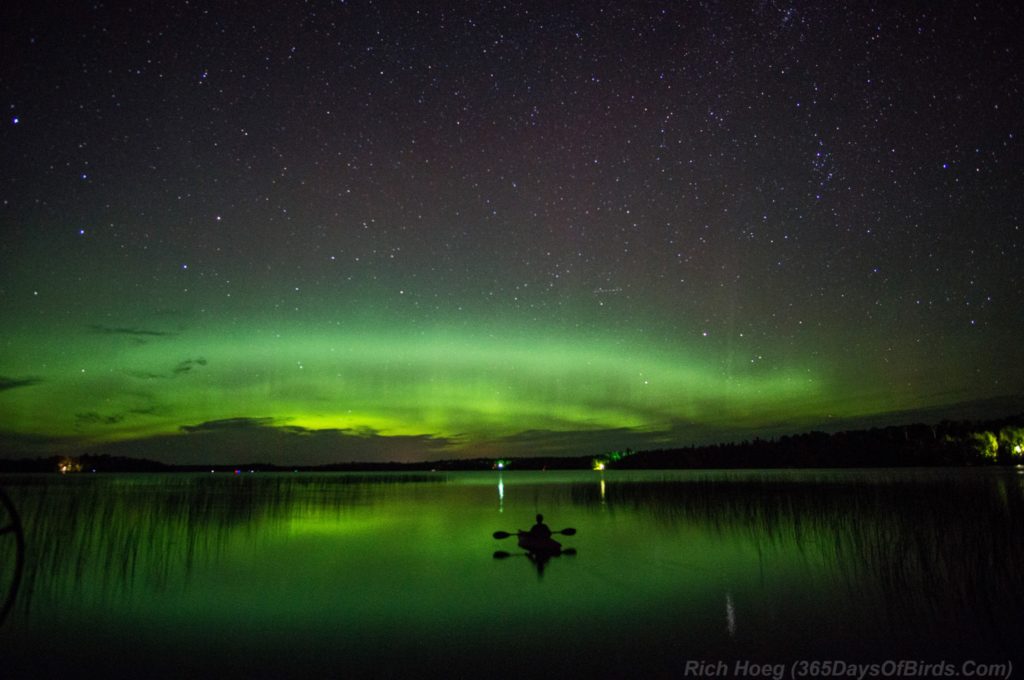 St. Patrick's Day Aurora (March 2015)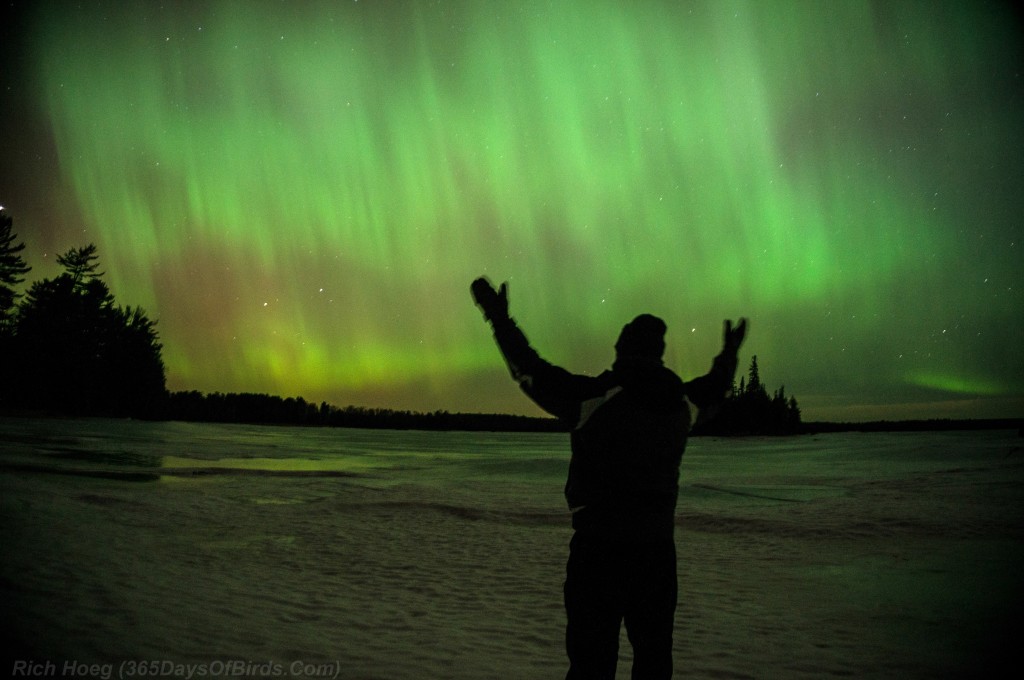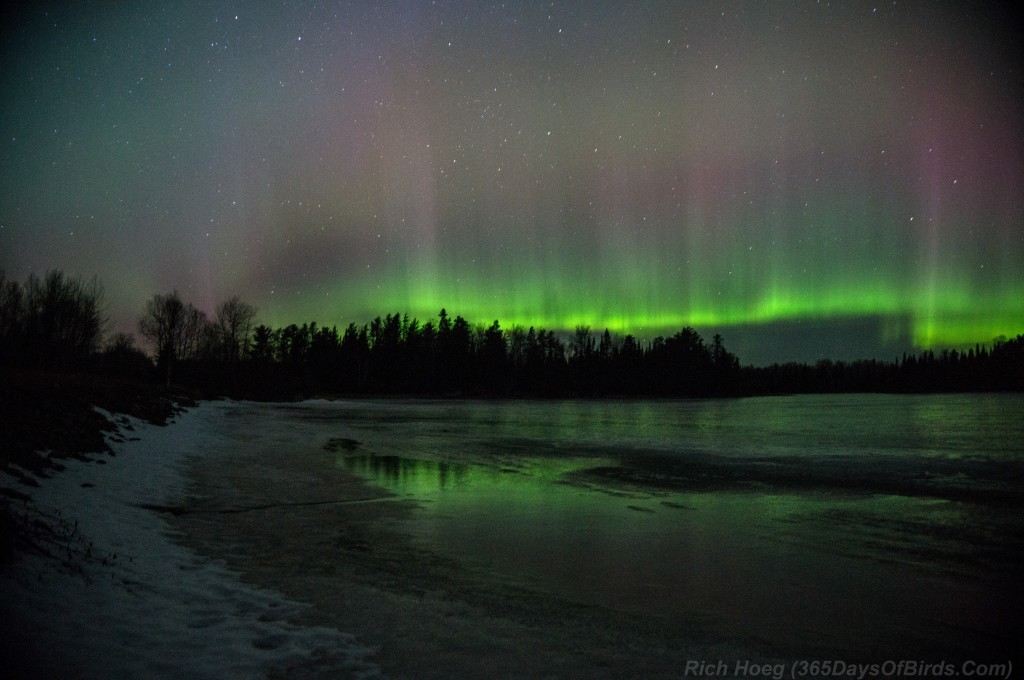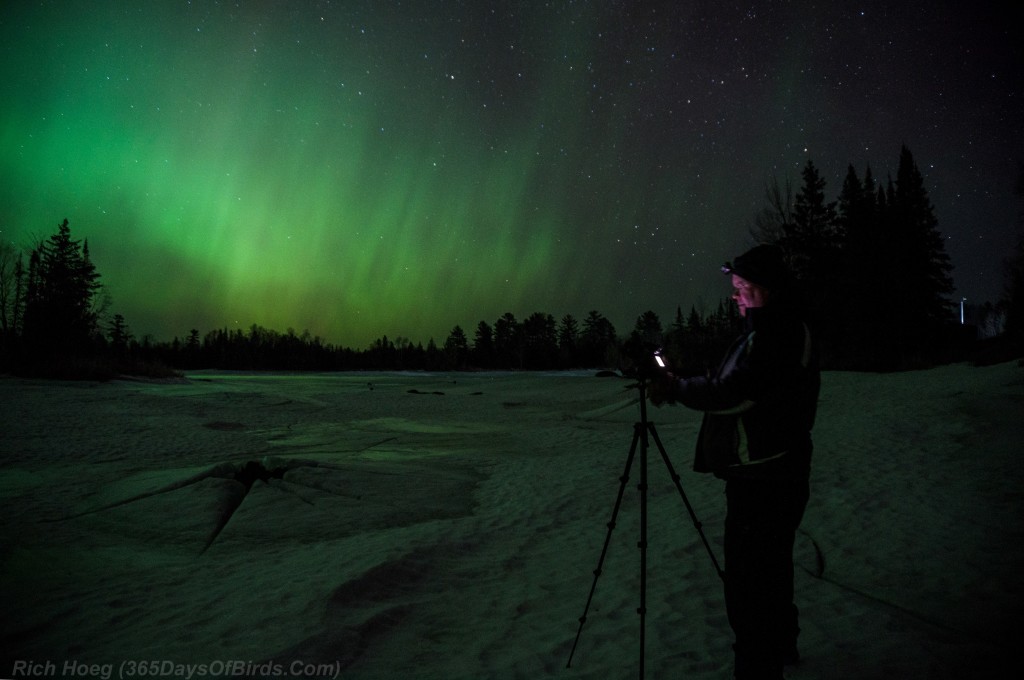 ———-
Map to Boulder Lake (Boulder Lake is about a 35 minute drive north of Duluth)